Find a Recipe
QUICK - Meals in Minutes
Appetizers and Snacks
BBQ and Grill
Beef and Veal
Beverage and Punch
Breads, Muffins, and Stuffings
Breakfast and Brunch
Brownies and Bars
Cakes, Fillings, and Frostings
Candy and Confections
Chicken and Turkey
Cookies and Biscotti
Cooking for Crowds
Desserts and Ice Cream
Fruits, Fresh and Preserved
Holiday Special
International
Kid Friendly Foods
Lamb and Wild Game
Pasta and Pasta Sauces
Pie and Pastry
Pork and Ham
Potatoes, White and Sweet
Rice and Grains
Salads and Salad Dressings
Sandwiches, Sausage and Pizzas
Sauces, Salsas, Condiments, Etc.
Seafood and Fish
Soups, Stews, Chilis, Slow Cook, Chowders
Vegetables and Side Dishes
Vinegars, Pickles, Oils, Relish
Everything Else
Recipes
Rich Pumpkin Sweet Bread
| | | |
| --- | --- | --- |
| Servings: Makes 2 Loaves | Prep. Time: 15 Min Prep 1 Hour Bake | Print |
This recipe came by, quite by accident! I did not have a can of plain pumpkin, so I used a can of pumpkin pie mix instead.
It's a bigger can of pumpkin and it has sugar and spices already added. But in a pinch, use what you have. It turned out wonderful. Try it, you'll like it!
NOTE* This makes 2 loaves, or 1 loaf and some muffins. Goes Great With Apple Cider!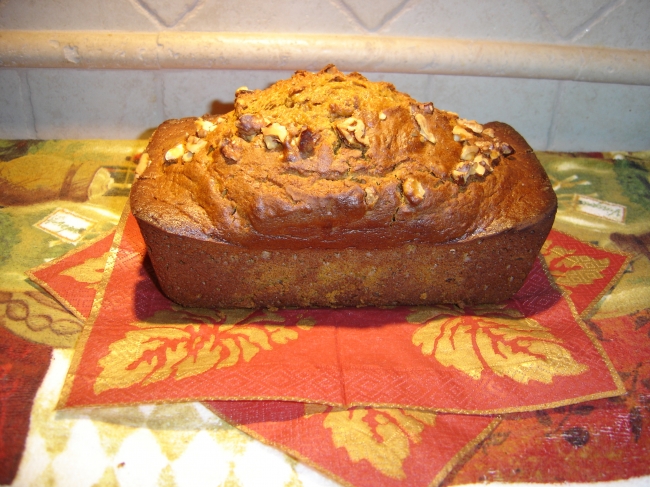 Ingredients
2 cups sugar
1 cup vegetable oil
4 whole eggs
2/3 cup water
3 tsp. cinnamon
1 1/2 tsp. ginger
1 1/2 tsp. salt
2 tsp. baking soda
1 29-ounce can pumpkin pie mix
3 1/2 cups flour
2 cups walnuts, chopped (use 1 cup of black walnuts with 1 cup regular for richer taste)
Directions
Cream together sugar and oil.
Add eggs one at a time.
Add spices, salt and baking soda.
Alternate flour with water and mix thoroughly.
Stir in pumpkin and nuts, mix thoroughly.
Pour into loaf pans that have been sprayed with Pam.
Bake 1 hour at 350 F. Test with a toothpick to see if it is done baking.
Makes big loaves.
Do not overcook.