Find a Recipe
QUICK - Meals in Minutes
Appetizers and Snacks
BBQ and Grill
Beef and Veal
Beverage and Punch
Breads, Muffins, and Stuffings
Breakfast and Brunch
Brownies and Bars
Cakes, Fillings, and Frostings
Candy and Confections
Chicken and Turkey
Cookies and Biscotti
Cooking for Crowds
Desserts and Ice Cream
Fruits, Fresh and Preserved
Holiday Special
International
Kid Friendly Foods
Lamb and Wild Game
Pasta and Pasta Sauces
Pie and Pastry
Pork and Ham
Potatoes, White and Sweet
Rice and Grains
Salads and Salad Dressings
Sandwiches, Sausage and Pizzas
Sauces, Salsas, Condiments, Etc.
Seafood and Fish
Soups, Stews, Chilis, Slow Cook, Chowders
Vegetables and Side Dishes
Vinegars, Pickles, Oils, Relish
Everything Else
Recipes
Coin Size Cheese Snacks
| | | |
| --- | --- | --- |
| Servings: Makes about 36 Appetizers | Prep. Time: 10 Min Prep 10 Min Bake | Print |
Rolls of cheese crackers, sliced and baked. Fresh crackers anytime you want them!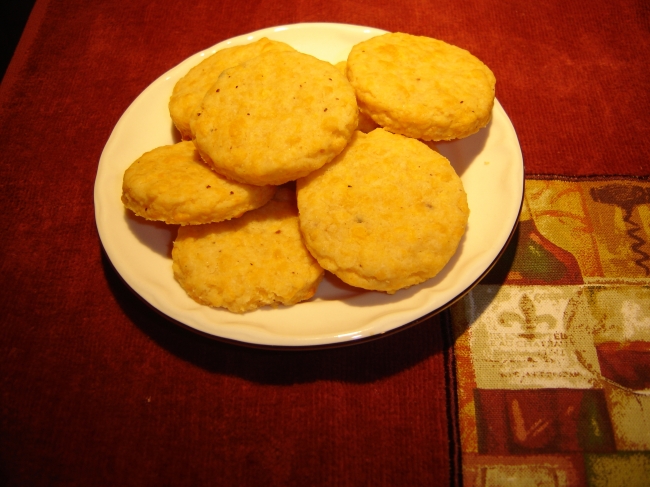 Ingredients
1 Stick margarine or butter
1/2 lb grated Cheddar cheese
1 cup plain flour
1/2 pkg. dry onion soup mix
1/2 tsp salt
Directions
Bring butter and cheese to room temperature. Mix well.
Add rest of ingredients and mix well. Shape into one inch rolls.
Wrap in wax paper. Chill.
Preheat oven to 375 degrees. Slice chilled rolls 1/4 inch thick.
Bake on ungreased baking sheet for 10 to 12 minutes or until slightly brown.