Find a Recipe
QUICK - Meals in Minutes
Appetizers and Snacks
BBQ and Grill
Beef and Veal
Beverage and Punch
Breads, Muffins, and Stuffings
Breakfast and Brunch
Brownies and Bars
Cakes, Fillings, and Frostings
Candy and Confections
Chicken and Turkey
Cookies and Biscotti
Cooking for Crowds
Desserts and Ice Cream
Fruits, Fresh and Preserved
Holiday Special
International
Kid Friendly Foods
Lamb and Wild Game
Pasta and Pasta Sauces
Pie and Pastry
Pork and Ham
Potatoes, White and Sweet
Rice and Grains
Salads and Salad Dressings
Sandwiches, Sausage and Pizzas
Sauces, Salsas, Condiments, Etc.
Seafood and Fish
Soups, Stews, Chilis, Slow Cook, Chowders
Vegetables and Side Dishes
Vinegars, Pickles, Oils, Relish
Everything Else
Recipes
Chocolate Cheesecake
| | | |
| --- | --- | --- |
| Servings: 10 | Prep. Time: 15 Min Prep Bake 35 Min Total | Print |
Chocolate and cheesecake together- a dessert lovers dream! My grandaughter Jami Made this.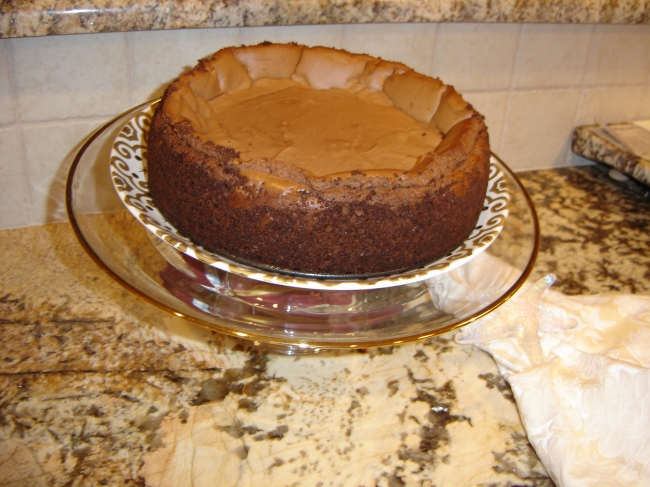 Ingredients
1 cup dry chocolate cookie crumbs
3 T butter or margarine, melted
1 pound cream cheese
3/4 cup sugar
5 T cocoa
2 tsp vanilla extract
3 eggs, separated
2 cups sour cream
Directions
Combine crumbs and butter. Press on bottom of 9" springform pan (3" deep).
Beat cream cheese until fluffy. Mix 1/2 cup sugar and 3 tablespoons cocoa. Add gradually to cheese, beating. Add 1 teaspoon vanilla and the egg yolks, beating well. Fold in stiffly beaten egg whites. Pour into pan.
Bake at 375 degrees 25 minutes. Remove from oven and let stand 10 minutes.
Increase oven to 450 degrees.
Mix remaining sugar and cocoa. Beat into sour cream with remaining vanilla.
Spread over top of cake and bake 10 minutes.
Cool and chill until serving time.