Find a Recipe
QUICK - Meals in Minutes
Appetizers and Snacks
BBQ and Grill
Beef and Veal
Beverage and Punch
Breads, Muffins, and Stuffings
Breakfast and Brunch
Brownies and Bars
Cakes, Fillings, and Frostings
Candy and Confections
Chicken and Turkey
Cookies and Biscotti
Cooking for Crowds
Desserts and Ice Cream
Fruits, Fresh and Preserved
Holiday Special
International
Kid Friendly Foods
Lamb and Wild Game
Pasta and Pasta Sauces
Pie and Pastry
Pork and Ham
Potatoes, White and Sweet
Rice and Grains
Salads and Salad Dressings
Sandwiches, Sausage and Pizzas
Sauces, Salsas, Condiments, Etc.
Seafood and Fish
Soups, Stews, Chilis, Slow Cook, Chowders
Vegetables and Side Dishes
Vinegars, Pickles, Oils, Relish
Everything Else
Recipes
Bettie Lou's Southern Buttermilk Syrup
| | | |
| --- | --- | --- |
| Servings: Makes 1 1/2 Cup | Prep. Time: 5 Min Prep 5 Min Cook | Print |
After reading the definition of "Ethnic" in the dictionary I realized, I was a part of an ethnic group! "Hillbilly!" Just like Cajun, we have our own way of cooking and seasoning all manner of foods. Cajun cooking is more spicy than southern or hillbilly and they use a lot of wine! We like our barbeque more sweet and our shrimp french fried and this area does not (normally) even drink wine!
Buttermilk is used in many recipes from fried chicken to cakes and now in syrup. This recipe cooks up white and fluffy until you take it off the stove and add the vanilla. Then it is a rich carmel color and, the best tasting syrup you have ever had, BAR NONE!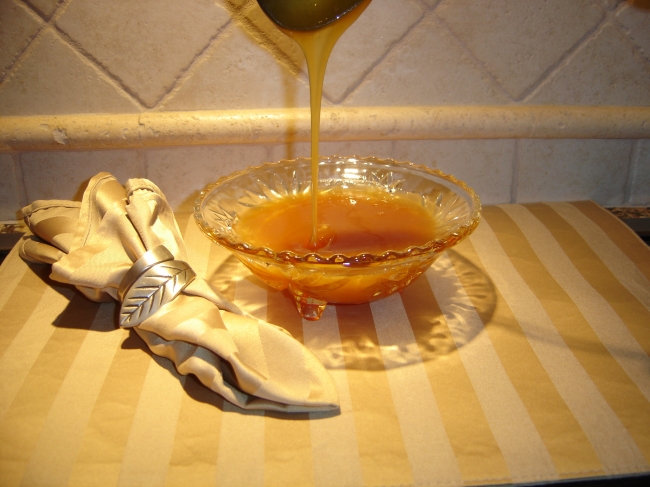 Ingredients
3/4 cup buttemilk
1 1/2 cups sugar
1/2 cup butter
2 T white corn srrup
1 tsp. baking soda
2 tsp. vanilla
Powdered sugar
Directions
Bring buttermilk, sugar, butter, corn syrup and soda to a boil over medium heat in a medium saucepan.
Boil for 5 minutes, stirring constantly.
Remove from heat and add vanilla.
Serve warm or room temperature over french toast, waffles or pancakes.
Refrigerate leftovers.
Sprinkle with powdered sugar.
NOTE* Cook over medium heat to give the syrup time to thicken, and sugar time to blend and crystals dissolve.