Find a Recipe
QUICK - Meals in Minutes
Appetizers and Snacks
BBQ and Grill
Beef and Veal
Beverage and Punch
Breads, Muffins, and Stuffings
Breakfast and Brunch
Brownies and Bars
Cakes, Fillings, and Frostings
Candy and Confections
Chicken and Turkey
Cookies and Biscotti
Cooking for Crowds
Desserts and Ice Cream
Fruits, Fresh and Preserved
Holiday Special
International
Kid Friendly Foods
Lamb and Wild Game
Pasta and Pasta Sauces
Pie and Pastry
Pork and Ham
Potatoes, White and Sweet
Rice and Grains
Salads and Salad Dressings
Sandwiches, Sausage and Pizzas
Sauces, Salsas, Condiments, Etc.
Seafood and Fish
Soups, Stews, Chilis, Slow Cook, Chowders
Vegetables and Side Dishes
Vinegars, Pickles, Oils, Relish
Everything Else
Recipes
24 Hour Velvet Salad
| | | |
| --- | --- | --- |
| Servings: Serves 16- 24 | Prep. Time: Prep 15 Min. Cook 5 min. Chill 24 hrs. | Print |
This is smooth, and very rich tasting. The egg yolk dressing "makes" the taste, in this big crowd pleasing salad.
NOTE* I made this great salad last weekend. It is so creamy. The dressing is like lemon pie filling. It soaks into the marshmallows and they are like velvet!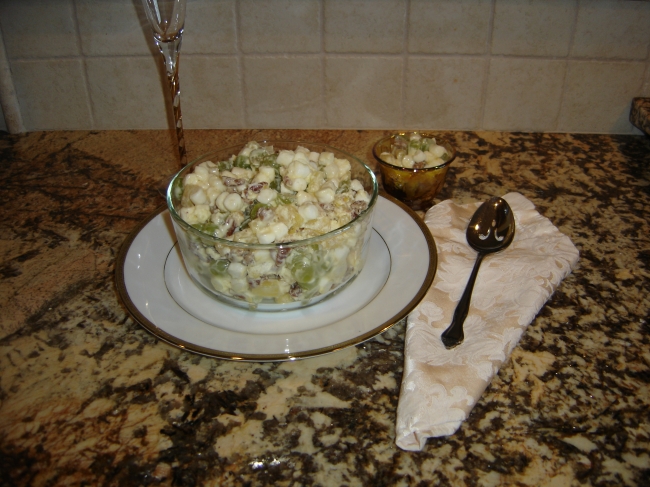 Ingredients
1 large can crushed pineapple (20 ounces)
1/2 pound pecans, coarsely broken
1 pound grapes, seeded and halved
1 pound miniature marshmallows
1/2 pint whipping cream, whipped

Dressing:
4 egg yolks
1/2 cup sugar
1 large lemon, juiced
Dash of salt and white pepper
1 cup whipping cream, whipped
Directions
Beat egg yolks well; add other ingredients.
Cook over low heat, stirring constantly, until thickened.
Let cool.
Mix well with whipped cream and fruit-nut mixture.
Let stand 24 hours, refrigerated.